CranioSacral Massage
Craniosacral therapy is the massage therapist's version of a chiropractor's adjustment. You could call it a soft tissue adjustment.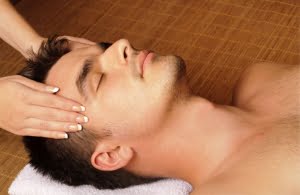 Craniosacral Massage Therapy is a technique for finding and correcting cerebral and spinal imbalances or blockages that may cause sensory, motor, or intellectual dysfunction. Practitioners work with the subtle articulations of skull sutures, and the flow of cerebra-spinal fluid. Using a soft touch that is generally no greater than 5 grams – about the weight of a nickel – practitioners release restrictions in the soft tissues that surround the central nervous system. CST is increasingly used as a preventive health measure for its ability to bolster resistance to disease, and it's effective for a wide range of medical problems associated with pain and dysfunction. It is one of the most relaxing of all massage techniques.
These are the conditions that craniosacral has been known to help:
Migraines and Headaches
Chronic Neck and Back Pain
Autism
Stress and Tension-Related Disorders
Motor-Coordination Impairments
Infant and Childhood Disorders
Brain and Spinal Cord Injuries
Chronic Fatigue
Fibromyalgia
TMJ Syndrome
Scoliosis
Central Nervous System Disorders
Learning Disabilities
ADD/ADHD
Post-Traumatic Stress Disorder
Orthopedic Problems
And Many Other Conditions
Reviews
In this type of business, you live and die by your reputation, and the reviews are right, this business is consistently great. They only bring in the best and give the best services. I've been to many places and had massages in several different places, this being the best by far. You aren't rushed in and out, or anything like that. It's very personal, and a great value for the services. I've been coming here for several years, so that says everything. Don't hesitate to schedule with any therapist, they're all great.
I've had many different types of massages, shiatsu, sports therapy, and other massage places in town. This was the best I can remember. Great environment! Very relaxing, very friendly, laid back staff. (I don't want to say who I had because I need to be able to get appointments with her, hehe, but it starts with an "M" ;) She did exactly as I requested on the online form. Paid attention to my reactions to really tailor to my needs instead of a "one size fits all" kind of massage. I will be back as soon as I can get the time free! I plan on keeping them as my go-to number one massage place.
*Also, it's nice to know I'm supporting a locally owned business!!
Some things to note about Body Ache Escape
Schedule your Columbus Massage Today!
Our Hour is a full 60 minutes
We don't do memberships, however, we do have discounted packages that you can use at any time and never expire.
Our therapists are all knowledgeable and eager to learn more.
We are locally owned and operated.
We listen and care about our clients.
We take Workers' Compensation.
We use Doterra essential oils.
We have online scheduling!
We offer special deals a couple of times a year.
Everyone gets a bottle of water when they leave.
We do lots of educational videos and blog posts.