Body Ache Escape Massage Center
Our Story
Fate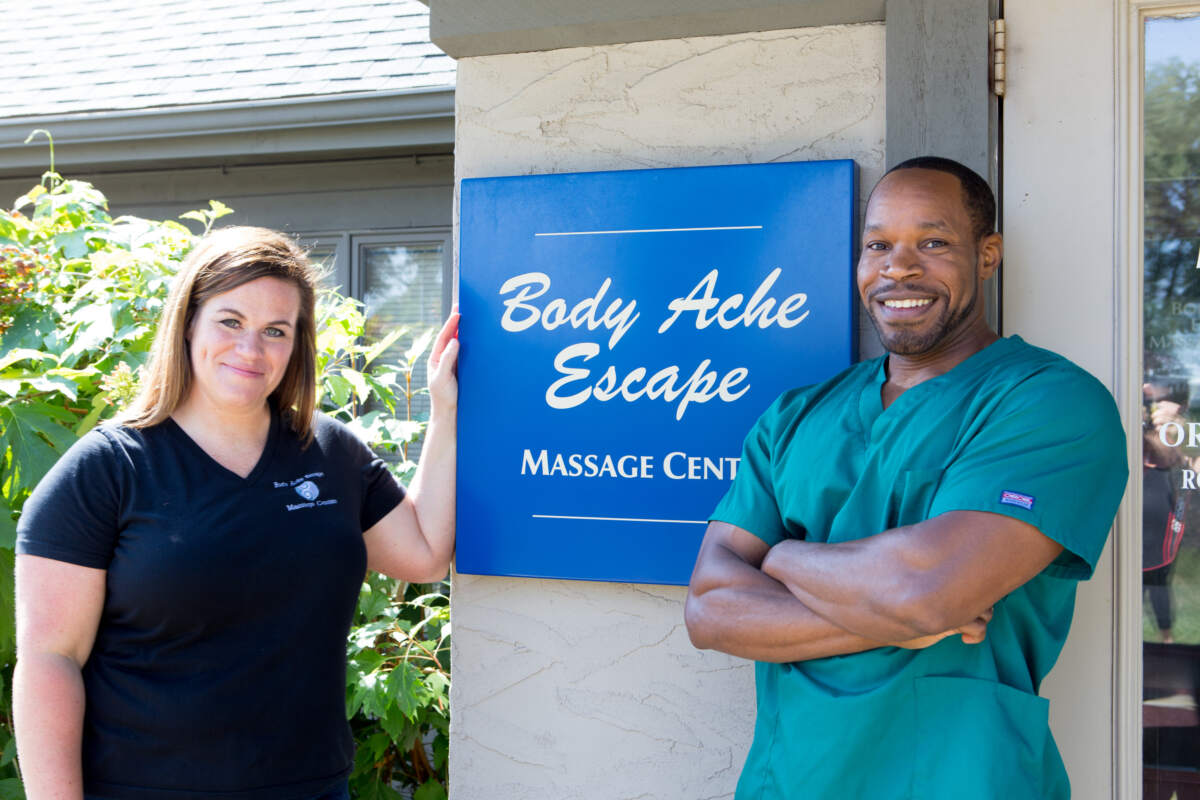 One day, a long time ago, Michele needed a massage! She was a broke newly licensed massage therapist, so she decided to go back to Columbus State where she graduated from to get her massage. They didn't charge much there at the time because students gave the massage.
As luck would have it, Michele got her massage from Kyron! It was great! He did this ear-draining move that is memorable to this day. They didn't speak again until…..
Kyron's First Job
Early on in her career, Michele worked for a local chiropractor in Columbus, OH. The chiropractor put her in charge of interviewing new massage therapists to hire. After a long day of duds, who walks in but Kyron! Michele remembered him from his awesome ear thingie so he immediately got the job. Well, the ear thing plus he's super smart about stuff.
A New Era
The time came for Michele to move on from the chiropractor and she was sad because she and Kyron had become such great friends. Kyron told her, "Don't worry. Just because we won't be working together anymore, doesn't mean we won't ever talk again." She didn't believe him! So the first chance she got, she got him hired at the YMCA in Canal Winchester to share her massage room there. It was really the perfect setup. They
didn't pay much in rent, they made their own schedules, and they had a huge pool of people to market to right outside their massage room door.
A Good Ending Leads To A Great Beginning
Events started taking place at the YMCA which lined it up perfectly for Michele and Kyron to start their own location. It took them about 6 months to get everything set up, but finally, they came up with a name and opened the doors of Body Ache Escape Massage Center in June 2010. They started with just a tiny 2-room office and have expanded twice now. They hope to eventually be able to buy their own building in Pickerington and be well known throughout Columbus as "THE PLACE" to go to for a therapeutic massage.
"We love serving the community as a team through our hands and hearts."~Michele & Kyron
Discover Wellness at Body Ache Escape Massage Center in Columbus, Ohio
At Body Ache Escape, located near Columbus, OH, we pride ourselves on being a top notch Columbus Massage Center, offering a variety of massage therapies to suit your needs. Whether you're seeking relief from chronic pain, or simply want a soothing massage to ease your stress, our knowledgeable therapists are eager to guide you on your wellness journey.
Experience the Best Massage in Columbus:
Our massage sessions are a full 60 minutes, ensuring you receive the maximum benefits of massage therapy.
We specialize in various massage techniques including Deep Tissue Massage, Swedish Massage, and Sports Massage, tailored to alleviate muscle tension and enhance blood circulation.
For those experiencing muscle soreness or looking for deep pressure relief, our Hot Stone Massage utilizes hot stones to target specific parts of the body, promoting relaxation and well-being.
Client-Centric Approach:
We don't operate on memberships but offer great Columbus OH deals through our discounted package, available for use at any time.
We listen and genuinely care about our clients, ensuring a friendly staff and a personalized experience every time.
Everyone is welcomed with great products and leaves with a bottle of water to stay hydrated post-massage.
Convenient and Accessible:
Scheduling is a breeze with our online scheduling system, allowing you to book your massage today with ease.
We offer special deals and gift certificates a couple of times a year, making them the best gift for your loved ones.
First time clients and regulars alike can take advantage of our deals, exploring the range of massages we offer.
Educational Resources and More:
We are passionate about education, regularly sharing educational videos and blog posts to help you understand the benefits of massage.
We are locally owned and operated, and we accept Workers' Compensation.
We use Doterra and Plant Therapy essential oils to enhance your massage experience, and we offer prenatal massages and infrared heat massage.
Join Us on Your Wellness Journey:
Whether you're a first-time visitor or a regular client, Body Ache Escape Massage Center is the place to start your wellness journey. Our commitment to quality, friendly staff, and a range of great services make us the best massage center in Columbus, OH. Book your soothing massage session or buy your loved one a gift certificate with us and discover the path to wellness! [Click here to book online!]