2015 Business of the Year
by Michele Cook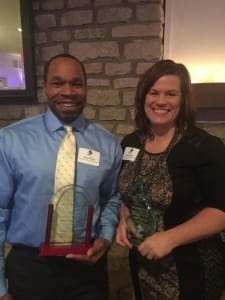 I am so proud to announce that Body Ache Escape Massage Center won 2015 business of the year with the Pickerington Chamber of Commerce! Last Thursday was a monumental occasion in our 5 years of being open. It was such an honor to be recognized for all of our hard work in the business and in the community. Kyron and I are forever grateful to our loyal clients and gifted staff.
I wanted to take a moment to highlight the best parts of the last year.
In March, Stacy, our acupuncturist headed a fundraiser for the Wounded Warrior Project. Stacy, Andrew and Sara provided free services in lieu of a donation to the project. Together they raised $800 for the cause!
In April, I started working with my leadership coach, Dan Stover. This is what really started changing things for the good around Body Ache Escape.
In May, I decided to become a Pickerington Chamber Ambassador which means I help the businesses in the chamber get involved and take advantage of everything the chamber has to offer.
In June, we had our 5 year anniversary open house! We gave out free short massages and had a raffle that included a pair of diamond earrings from Edward Warren Jewelers. One special breast cancer survivor won a free year of massage!
In December, we had our first big holiday party. We had it at the Ugly Mug Bar, Andrew's band Embers of Arson played and we collected over 50 toys for the Salvation Army Christmas Angels program.
We hope to have many more great events and experiences in 2016 starting with the Valentine's Day Couples Massage Class followed by a couple of awesome continuing education classes.