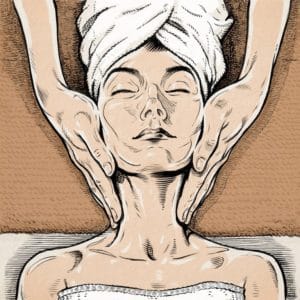 Booking a treatment at your hotel's spa is a way to relax on any vacation. But, according to Kimberly Kelder, the lead aesthetician at Miraval Resort & Spa in Tucson , Ariz., a spa visit can leave some people feeling more stressed out than chilled out. "If you don't pick the right service or are unsure about spa etiquette, it's hard to have an enjoyable spa experience," she said. Here, she shares her tips on how to get the most out of your trip to a spa.
Choose the Right Treatment
Many spas have a long list of treatments on offer. While several may sound appealing, it's important to pick the best option for you. If you have sore muscles, for example, a deep tissue massage is an ideal choice. If an overly dry complexion is of concern, a hydrating facial would do the trick. "You're going to love your time at the spa if you pay attention to what your body needs versus what's trendy or what the spa is touting as a so-called miracle treatment," Ms. Kelder said.
Know How Much to Undress
Upon checking in to the spa, you'll likely be given a robe to wear during your treatment. Figuring out what to don underneath can be confusing though. Ms. Kelder said that for facials, only the shoulders and chest need to be exposed. For massages and body treatments, however, it's ideal to disrobe completely, including undergarments — doing so will allow the therapist to target your muscles more effectively, she said. If you'd prefer a massage without disrobing, opt for a Thai massage, during which you'll wear loosefitting clothes.
Be Vocal
Ms. Kelder said that many spa disappointments happen because spa-goers don't communicate with their therapists. If your shoulders are particularly tight, for example, tell your massage therapist before the start of the service. He or she can spend a few extra minutes working on them. Also, speak up if you have sensitive skin or allergies to certain ingredients. And during your treatment, don't be afraid to ask for more or less pressure during a massage, an additional blanket or towel if you're chilly or anything else that will make your service more pleasurable.
Avoid Peak Times and Don't Rush
Hotel spas tend to be busiest on weekdays from 5 p.m. until closing and all day on weekends; during these times, you can likely expect less attention from the spa's staff and more crowded locker and waiting rooms. Going on weekdays before 5 p.m., on the other hand, when there are fewer patrons, makes for a more relaxed visit. Also, no matter when you go, be sure to arrive 20 minutes in advance of your treatment, and plan to stay for at least another 30 minutes after it's done. "Enjoying the spa's ambience, such as a steam room, are a part of the relaxation you're there to seek, and rushing in and out defeats that purpose," Ms. Kelder said.
[…]