Couple's Massage
Why all the Hype?
One of our most frequently asked questions at Body Ache Escape is…Do you offer Couple's Massage? We don't. We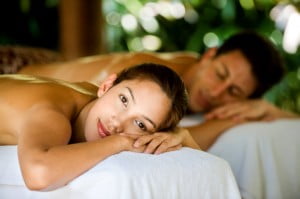 don't have a room big enough to fit two tables….maybe one day when we can move into a bigger office.
It's my opinion though that a couple's massage really doesn't live up to all the hype anyways. When my husband and I went down to Hocking Hills one weekend, I had two therapists come to the cabin to give us a couple's massage.
Although if we had a couple's massage at Body Ache Escape the experience would be entirely different, our massage was less than relaxing.
The music the therapists brought was pop alternative and the two therapists talked amongst themselves the entire time. Also, my husband and I couldn't even look at each other because of the arrangement of the tables.
Reason Couples Want a Massage Together
I believe the reason that couples want to get massaged together is a two-parter. 1. They think it will be a bonding experience. 2. They are nervous to get their first massage and want moral support.
Having the massage at the same time and being in different rooms addresses both of those points. Plus, there is one added benefit. You can RELAX!
Your other half won't be bothering you with talking, snoring, moaning, etc. Also, You can spill your guts to the therapist if you want without your other half hearing. YOU CAN talk, snore, moan without worrying about annoying your partner.
If you are set on the being together part, you should try our Couple's Massage Class. It's definitely a fun date! One of you gets on the table first, then the therapist shows the other how to massage the one on the table. Halfway through (if you want to) you switch. You can then take the things you learned home with you!
Either way, with your partner or not, the fact remains….You should definitely get massage! Give us a call to schedule or schedule online! 614-604-6358