The Gluteus Medius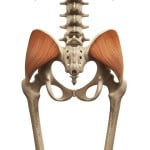 Almost every day I have a client say, "ow! I didn't know I was sore there". They say this about the commonly overlooked cause of lower back pain–the gluteus medius.
The gluteus medius' job is to stabilize the pelvis, abduct (away from the body) the thigh, and to prevent the hip from dropping down. Pain mostly stays local to the muscle, but will also go into the lower back and upper hamstring area.
If you have trigger points in the gluteus medius, you will likely complain of pain when walking, lying on the affected side and sitting in a slumped position.
I have a lot of problems with my gluteus medius and I find that one massage can help me feel immensely better. I also use a tennis ball to help relax those trigger points by laying on the floor with the ball under my hip.
Exercising on a recumbent bike is highly recommended. Stretching also works wonders and Kyron will show you what to do in the video below!
I have had hundreds of massages in my lifetime, but my massage with Kyron was by far the best massage I have ever had. I didn't want a basic "fluff and buff", as I had several specific issues to focus on. Kyron really listened to me and addressed every concern I had. I had heard he was an awesome massage therapist, but he is 100x beyond awesome! He located and released every hidden knot in my back. Kyron has definitely found his life's calling. Esthetically, his room is cozy and sufficiently dark. The table was toasty warm. Kyron has gained a lifetime client; I definitely will make a return visit soon! All I can say is WOW, and thank you Kyron for the best massage ever.