Massage Fun Facts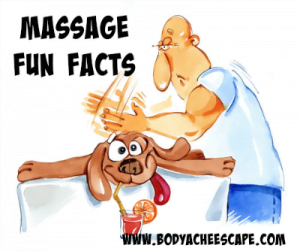 Massage is the oldest form of health care
It is depicted in Egyptian tomb paintings.
It is mentioned in ancient Chinese, Japanese, and Indian texts.
The ancient Greek physician Hippocrates describes the practice of anatripis or "rubbing up."
Massage is scientifically shown to be an effective treatment for the following conditions:
Cancer-related fatigue
Chronic low back pain
Reducing headache frequency
After surgery to help with post-operative pain
Therapeutic massage is increasingly being promoted by healthcare providers to their patients
Almost one in five adult Americans (19%) report discussing massage therapy with their doctors or healthcare providers.
Of that 19%, more than half (58%) said their doctor strongly recommended or encouraged it.
More than half of massage therapists (63%) receive referrals from healthcare professionals.
Massage is beneficial for infants, children, adolescents, adults, and the elderly
Babies fall asleep faster when massaged than when rocked, and they stay asleep rather than waking the moment Mom tiptoes away.
When massaged regularly, children suffering from juvenile rheumatoid arthritis, asthma, and autism showed improvement in their symptoms from decreased pain, decreased anxiety, and decreased inattentiveness.
Massage therapy can help to partially restore mobility to the elderly afflicted with Parkinson's disease and arthritis, as well as reduce levels of anxiety, depression, and the effects of loneliness.
Thanks for sticking around! We hope you've enjoyed our little foray into the world of massage fun facts. We think it's pretty amazing stuff, and we love giving (and getting) massages. If you're in the mood for some relaxation, give us a call to schedule your appointment. We can't wait to help you melt away your tension and stress! We would love to have you join our team at Body Ache Escape!